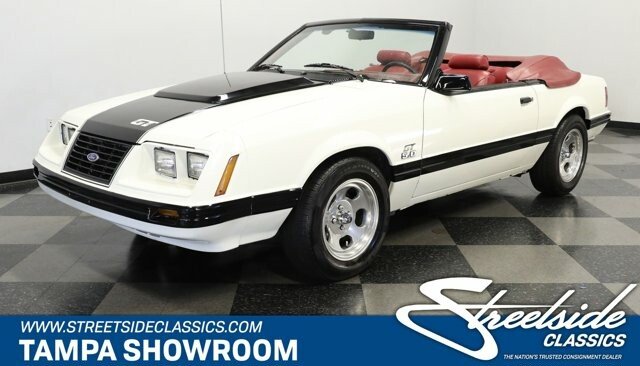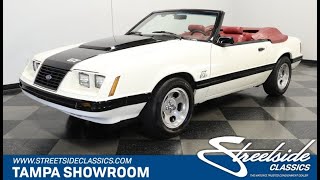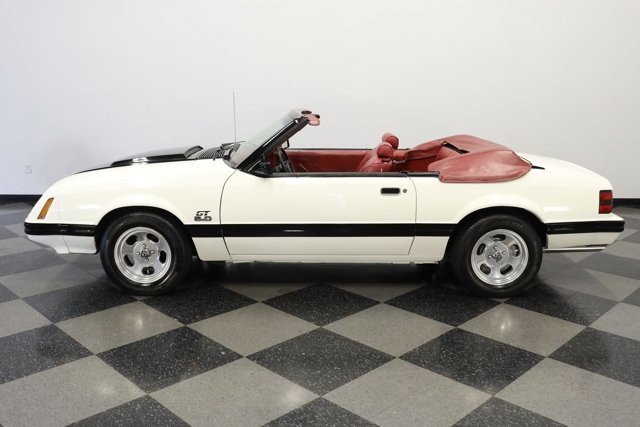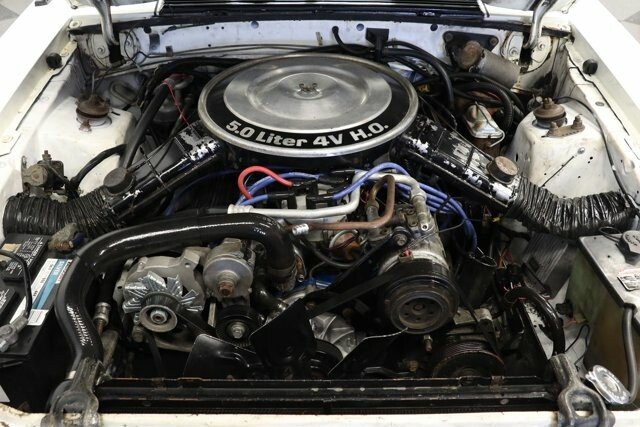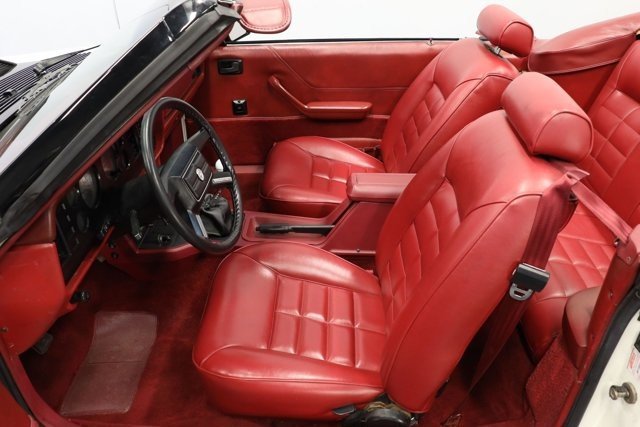 Ford Mustang

1983

ch

5 Vitesses Manuel

5.0L

116 133

Possible
This 1983 Ford Mustang GT convertible is sleek, stylish, powerful, and a whole lot of fun. After all, who doesnt love a 5.0 pony car drop-top with a five-speed? And this clean classic is even offered at a value price. This Mustang is on an actual miles title, and so it has only averaged about 1,800 miles annually. The reason why someone would give this less use, good care, excellent paperwork, and the right upgrades is because its a special year. The 1983 car broke the decade-long convertible drought. These were quite expensive (nearly doubling the base models price,) and so its believed only about 1000 GT convertibles were produced in 1983. So now that you understand the rarity and significance, you can see why this one has such a nice fit and finish. The white paint is bright and glossy, and it serves as a great backdrop for all the dark elements like the distinctive GT hood stripe, factory hood scoop trim (only available for a few years,) black rub strip that encircles the entire body, and a snug-fitting back roof. This is quite a stylish car, but dont think of it as a museum piece. It has a special driver-ready impression where it loves to keep its vintage style, right down to classic upgrades, like the Ansen Sprint slotted mag wheels. As much as we like it with the roof up, convertibles are always meant to be open to the world. So we love that this has such a distinct and preserved red interior. Its both clean and comfortable including amenities such as cruise control, power windows, and a power convertible top. Its a terrific drivers car with nicely bolstered front bucket seats, an armrest center console, a tilt column, and full gauges with a handy tach. There are some nice investments in well-integrated upgrades, like the retro-style AM/FM digital tuner and the Hurst shifter. It makes for a much better driving experience. There was even a more recent investment in the air conditioning system, but it will need additional servicing to blow cold again. Its quite a complete and vintage setup that youll appreciate the little things, like the distinct early Foxbody steering wheel and the color-matched convertible boot. The 5.0 High Output V8 is a legend in American performance for delivering plenty of power in a stout package. This is one of the last years for the four-barrel carb, which makes it great for modification. So this one is currently inhaling deeply with a Holley unit. It also exhales with added power and authority as headers feed the X-pipe dual exhaust. Best of all, the five-speed manual transmission gives you full control over this V8 and its soundtrack. Plus, this classic has great anytime driving features like power steering, power brakes, front discs, upgraded rear arms, and sway bars front & rear. The sale comes complete with a signboard that includes nice paperwork like the original warranty card and dealer invoice. This is the significant drop-top pony car that has the right mix of style and driver-ready substance. So dont miss this Mustang. Call today!!!
Un véhicule ? une pièce détachée ? une homologation
Profitez de notre expérience, contactez-nous pour vos recherches au USA.
Faites votre demande à notre équipe