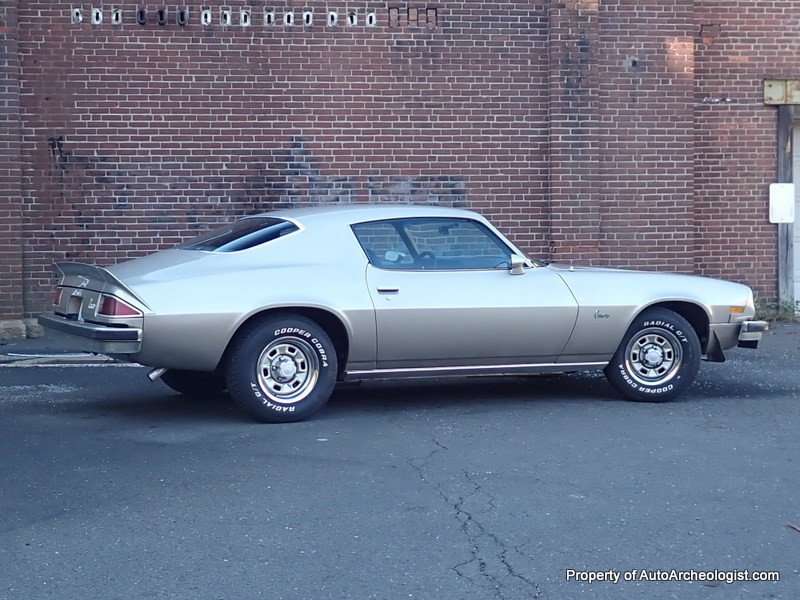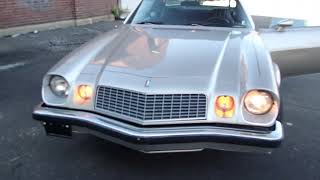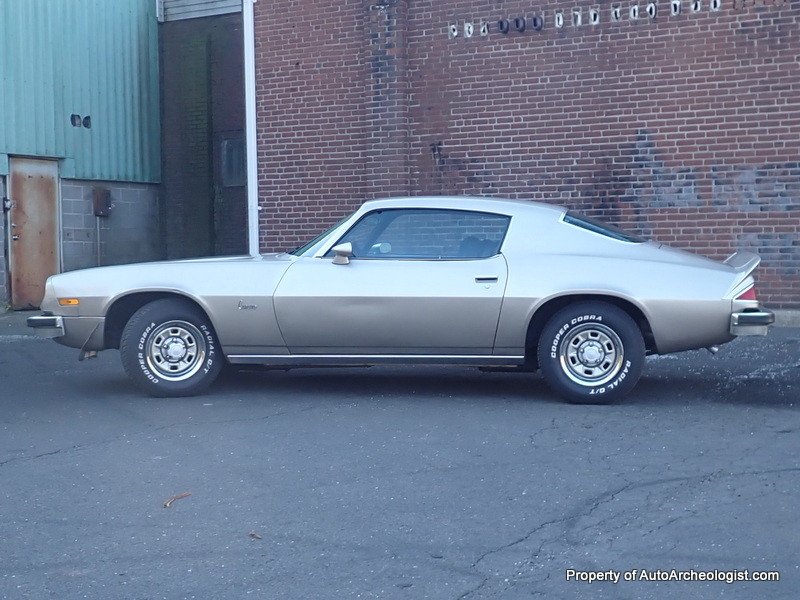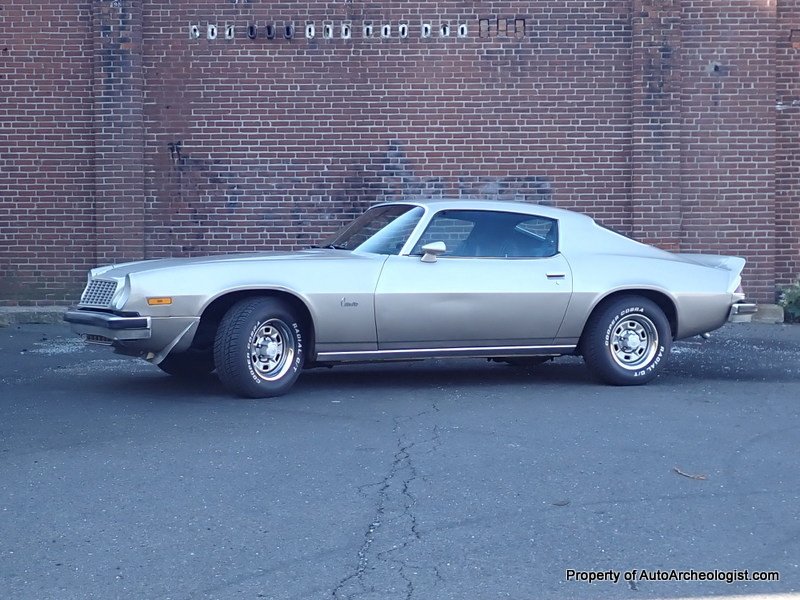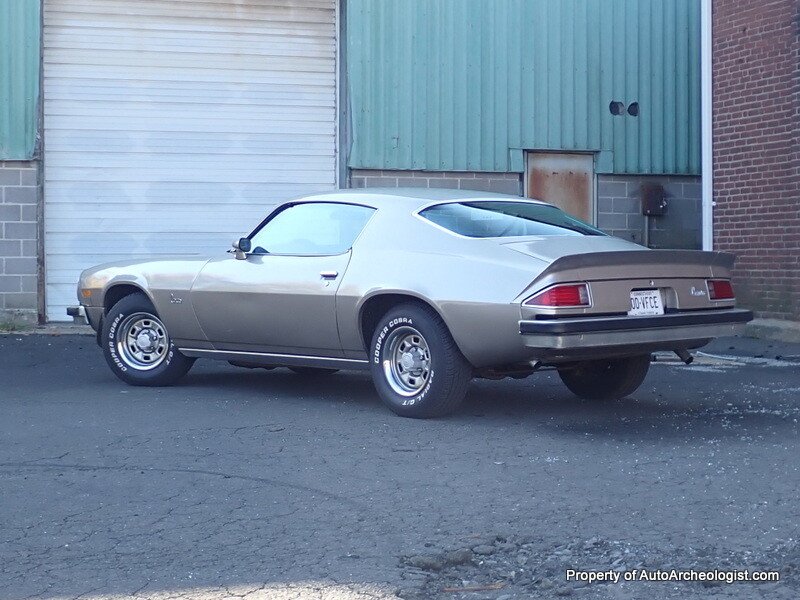 Chevrolet Camaro

1974

ch

4 Vitesses Manuel

8 Cylindres

37 015

Possible
1974 Chevrolet Camaro

This Camaro was built in early July 1974 in the Norwood, OH plant. She rolled off the line in Silver Metallic, black bucket seats, power steering, power brakes (disc in front, drums in rear) 350 V8 - 4 bbl CKB coded at 185 HP. hooked to a 4 speed manual transmission. She still has that original numbers matching engine, transmission and 10 bolt rear end.

What we know now is that the car was purchased from an estate several years ago and recently purchased from someone who bought several cars from that estate. Unfortunately, we don't have any other history than that.

We do know that the car was resprayed at some point, probably in the last 10 years, in Light Gold Metallic.

There are 23,000 miles on the odometer. We don't know if that is actual... however, this car is absolutely rust/rot free, has no wear on items like pedals, interior parts, under-body, gas tank, shock absorbers, etc. There is some very minor age/surface corrosion seen in a couple small places. One of two things... someone had this car fully restored several years ago, as in taken apart and almost everything replaced new, or it is a 23,000 mile original, except for the paint, car. The original spare is still in the trunk.

The car looks great, starts easily, runs and drives very soundly. Brakes work well, accelerates strongly, she is practically 100% ready to go.

One issue happened though just before the current owner bought the car: The car was parked outside temporarily and had a thick California car cover over it, winds kicked up, tore the car cover and it whipped back and forth across one small area on the hood/nose and part of the roof... putting rub marks in the clear coat. An attempt was made to buff them out however, it will need a color correction done on the hood and roof. They are hardly discernible in the photos and one needs to find the right angle to see them in person, but they are there.

The interior is in very good condition with only a very small seam separation in the driver seat and some minor warping on the dash pad to detract. The original radio has been replaced with a retro look "AM Radio" that is digital and includes AM/FM and aux inputs with two rear package tray Kenwood 6x9 speakers.

Under the hood, aside from the chrome Edelbrock air cleaner, most everything looks as it did from the factory. There are headers and a true dual exhaust system and a KSS Motorsports aluminum radiator, the rest remains stock and looking nearly new. 23,000 miles or fully restored? There is a new Diehard battery installed.

The Cooper Cobra Radials - 225/ 70R14, show minimal wear (there is a vulcanized repair on one) and are date coded 2018. There wasn't any dry rot seen so these should be OK for a little bit.

As previously mentioned, the car starts right up with two pumps of the gas and a turn of the key. Runs very strong, like a 23K mile car would, sounds great. Does everything as she should.

The small detractions the only minuses on a very solid car.

The asking price is $22,500

Any questions, for many more photos and video, to schedule a time to see it in person, or to make an offer, please don't hesitate to contact me.

Thank you for the interest.
Un véhicule ? une pièce détachée ? une homologation
Profitez de notre expérience, contactez-nous pour vos recherches au USA.
Faites votre demande à notre équipe